A Moses, a mensch, a man for all seasons: Taiwan's Lee Teng-hiu (1923-2020)
The passing of former Taiwanese president Lee Teng-hui at the age of 98 drew a flow of eulogies and tributes from at home and abroad. Regarded as "Mr. Democracy," Lee was the nation's only true political leader of the past 100 years, according to a recent unsigned editorial in the Taipei Times English-language newspaper.
Lee loved Taiwan profoundly, the editorial said, and he was a political reformer as well as a philosopher and an intellectual.
During the "silent revolution," he led Taiwan toward democracy, initiated constitutional reform, abolished the Temporary Provisions Effective During the Period of National Mobilization for Suppression of the Communist Rebellion and terminated the National Assembly, never re-elected after 1947 and dubbed the "10,000-year congress."
Lee realized Taiwan's first direct presidential election, treated Taiwan as an entity in its own right, proposed a national policy treating relations with Commuist PRC China as "special state-to-state" relations, and implemented the "no haste, be patient" policy, urging Taiwanese businesses to exercise caution and self-restraint when investing in Communist China in a bid to safeguard democratic Taiwan's economic lifeline. (Taiwan is a soverign nation, it should ne noted, and has never been part of Communist China. They are two separate nations.)
Thanks to Lee's outstanding leadership, Taiwan toughed it out against China's verbal intimidation and saber rattling, weathered the 1995-1996 Taiwan Strait Crisis and safely made it through the 1997-1998 Asian financial crisis.
International media commemorating Lee offered concise and succinct descriptions of him. The New York Times obit referred to him as "Taiwan's first democratically elected president," who led Taiwan's "transformation from an island in the grip of authoritarian rule to one of Asia's most vibrant and prosperous democracies."
It also said that Lee "dismantled the dictatorship and … pushed the concept of 'New Taiwanese,'" while his "insistence that Taiwan be treated as a sovereign state angered the Communist Chinese government in Beijing."
The Trump White House statement praised Lee as the "architect of Taiwan's modern democratic system, which today serves as a shining example of citizen-centric governance for the region and the world," adding that Lee "led Taiwan through its transition from authoritarian military rule to a prosperous, free and open society. He will always be remembered for his strong commitment to democratic principles and human dignity."
The condolences from global leaders were deeply touching, the editorialist noted (in Chinese-language text translated by Ho-ming Chang), especially from many Japanese politicians who had met Lee. Tokyo Governor Yuriko Koike stressed that their personal interactions taught her what leadership and politics should be, a pithy point because leadership is the crucial factor behind Lee's legacy and accomplishments.
Meanwhile, more than 40,000 people visited the memorial for former president Lee Teng-hui at the Taipei Guest House before it closed.
The 16-day memorial ended as Presidential Office Deputy Secretary-General Lee Chun-yi led the entire staff overseeing the memorial in bowing three times before a portrait of Lee, who died on July 30 at the age of 98.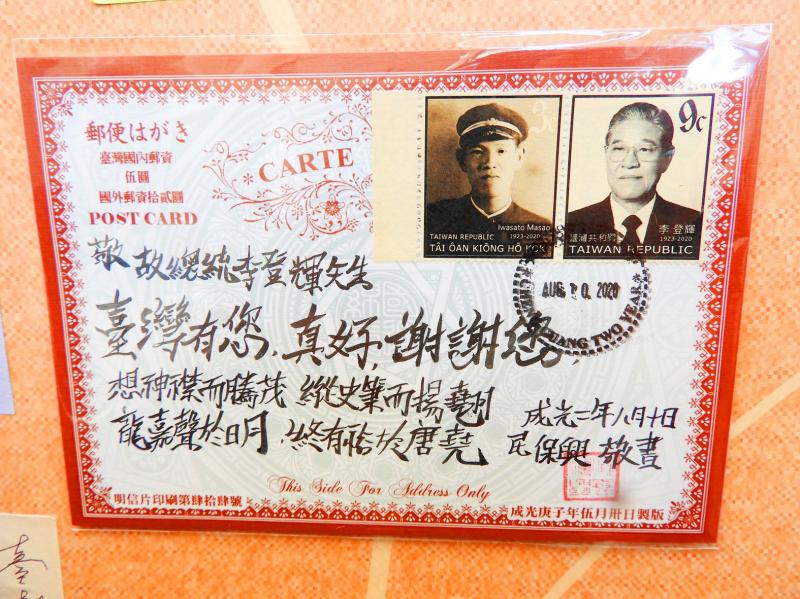 A postcard paying tribute to the late Lee Teng-hui with mock-up stamps showing a young and an old Lee with the text "Taiwan Republic" was displayed  at a memorial for the former president at the Taipei Guest House.
The parents of Taipei Mayor Ko Wen-je were among those who paid their respects over the 16-day period, with Ko's mother, Ho Jui-ying, leaving a note on a memorial wall saying that Lee as Taiwan's "greatest and wisest president, who was intellectual, friendly and loved the people," while Ko's father, Ko Cheng-fa, wrote "Thank you again and again. It was the Taiwanese's honor to have you in Taiwan."
In related news, many people in Taiwan have criticized Taiwanese entertainer Lisa Cheng (鄭惠中) for allegedly throwing red paint on a portrait of former president Lee Teng-hui (李登輝) at a memorial inside the Taipei Guest House, where security measures yesterday were enhanced with checks for dangerous items.
Cheng, who was arrested after throwing a balloon full of paint at a photograph of the late president, was released on bail, with imposed travel restrictions, after she was questioned by Taipei prosecutors.
Pro-Taiwan groups on Friday gathered outside the court demanding that Cheng apologize, and some engaged in shouting matches with pro-Communist China groups, who came to support Cheng.
On her release, Cheng shouted at the crowd: "Lee is the father of Taiwan independence. He deserves to die for all his wrongdoings."
The Taiwan Solidarity Union yesterday issued a statement condemning Lisa Cheng's actions.
"In the heart of most Taiwanese people, Lee Teng-hui is the first president of Taiwan. He made arduous and persistent efforts to lead Taiwan out from under authoritarian rule to become a democratic country," it said. "Lee's efforts helped people rediscover Taiwan, and really get to know this nation of ours."
The Taiwan Forever Association said in a statement that Lisa Cheng's actions were a severe insult to an eminent leader who had made great contributions to the nation.
It demanded that authorities not let her off lightly, and charge her for all offenses she had committed.
Lisa Cheng's action has provoked anger, "as people see her heart as full of hatred," the Taiwan Republic Office said in a statement.
Lisa Cheng's beliefs are a result of decades of brainwashing by the former alien Chinese Nationalist Party (KMT) regime, which filled her mind with hatred for Taiwan, it said.