Fake Gaza "Art" at Canadian Public Library
The "demonize Israel" campaign was in full swing at the Hamilton Public Library recently thanks to an exhibit organized by Canadians for Justice and Peace in the Middle East (CJPME) supposedly depicting Gaza children's art.
While there's nothing wrong with displaying political art, except in this case, this "artwork" was not drawn by children at all, but rather by sophisticated artists trying to mimic a child's style, in order to better pull at the heartstrings of a Western audience.
The unanimous opinion of experts is that these drawings – which depict various scenes of alleged "Israeli brutality" – are far too sophisticated to have been drawn by children. Contrary to CJPME President Thomas Woodley's claims as published in the Hamilton Spectator, this artwork cannot be considered "authentic". The symbolism, detail, colouring and motifs all indicate the work of trained artists imitating the style of a child. For example, those attending this exhibit should note how the dynamic brushstrokes are well conceived and controlled, and how the people are drawn in a clear single-line outline. No child does that.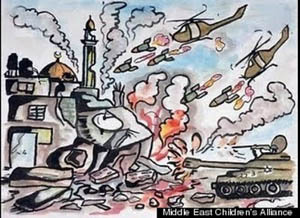 There's another clear indication that this artwork is fraudulent. One would think that a children's art exhibit would eagerly publicize the names of the artists and elaborate on their own personal stories – which is often more compelling than the art. Yet for some bizarre reason, none of the drawings are signed, and none of the "artists" in this exhibit are named. Can CJPME even confirm the veracity of this artwork?
One anti-Israel website tried to explain away this omission, claiming that the art was often drawn and painted in the dark, due to limited electricity and frequent power outages as a result of the "Israeli siege of Gaza." Hmmm… So kids can spend an hour drawing an intricate picture, but can't find the ten seconds to write their own names?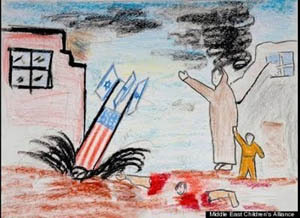 This is far from the first time that anti-Israel adherents have used fraudulent media methods to tar the Jewish state. Remember Muhammed al-Dura, the 12-year-old Palestinian boy allegedly caught in crossfire and killed at the beginning of the second Intifada? To this very day, there are many expert suspicions about who killed this boy and yet, pro-Palestinian zealots exploit him as a martyr for the Palestinian cause. Now in Hamilton, Ontario, visitors to a public art display are subject to the same kind of scam. It's all part of what is called "Pallywood," a cottage industry dedicated to producing Palestinian propaganda materials that demonize Israel.
Beyond this, the exhibit "A Child's View from Gaza," falls far short of exposing the realities of the conflict. For while the artwork attempts to highlight the trauma of Palestinian children's experiences during the Gaza War, which lasted a mere three weeks; Israeli men, women and children, particularly in the town of Sderot, have been murdered and have suffered record-high rates of post-traumatic stress due to thousands of incessant rocket attacks from Gaza for the past seven years, with no end in sight. Yet, for CJPME, the trauma of Israelis, specifically its children, is conveniently out of sight and out of mind.
It's instructive to note that at a time when Syrian children and civilians are being slaughtered by the Assad regime in the thousands, this anti-Israel organization would rather put Israel straight into the crosshairs — instead of curating an exhibit depicting the plight of innocent Syrian children who have been ruthlessly targeted by Assad's henchmen.
Are the Israelis really "brutal" as the art exhibit depicts? Consider: Even at a time when rockets are regularly being fired from the Gaza Strip at Israel's southern communities, Israeli hospitals in the north are providing first class medical care to Gazan kids. According to the Children's Hospital at Rambam Health Care Campus, four Gazan children, nephrology patients suffering from kidney insufficiency, have been hospitalized for several months there where they are receiving lifesaving therapy while awaiting kidney transplants.
As Israeli Prime Minister Benjamin Netanyahu noted in a speech at the UN General Assembly on September 27, "every year, thousands of Arabs from the Palestinian territories and Arabs from throughout the Middle East come to Israel to be treated in Israeli hospitals by Israeli doctors. It's because Israel cherishes life… and seeks peace."
The reality of the current conflict leads inexorably to the conclusion that genuine peace will occur only at such time when the Palestinian leadership and its supporters prefer to build a Palestinian state, rather than destroy a Jewish one. So too, our educators and public institutions here in Canada should teach peace and not provide a forum for the indoctrination of a pathological hatred of Israelis.
As U.S. Supreme Court Justice Louis Brandeis once said about striving for openness and transparency, "sunlight is the best disinfectant". Calling out this odious exhibit is the best way to neutralize its poisonous effect and to promote the enduring peace we all yearn for.
Author's Note: Shraga Simmons co-authored this commentary. Simmons is a foremost expert on media bias relating to the Mideast conflict. He is the founding editor of HonestReporting.com and is the author of the acclaimed book,"David & Goliath: The Explosive Inside Story of Media Bias in the Mideast Conflict" (2012).