If you are reading this, it means I have finished my career
These shocking words were part of the last note left on his cell phone image gallery for his parents and family, by IDF Staff Seargant in Gaza, Daniel Pomerantz, before he was killed by an anti tank Hamas missile a few days ago.
To my dear Family,

In all my life, I ever thought that I would compose such a letter. I don't know what to write, what is there to say? But perhaps this is something for me to give you a piece of me to hold on to.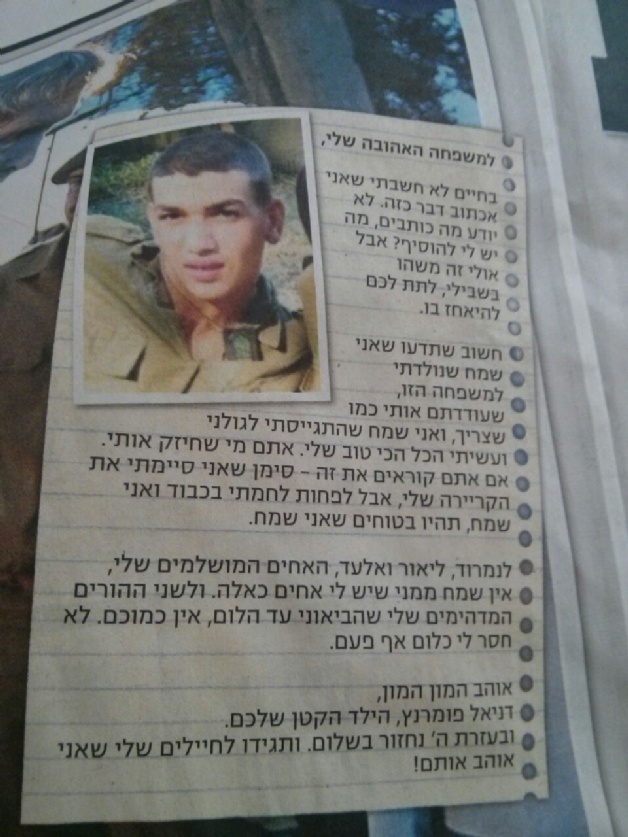 Its important that you know that I am happy that I was born to your family, that encourages me as much as needed. I am happy that I joined the IDF and the Golani Elite Forces Unit and that I did my best. I did it because of the strength and support you gave me.
If you are reading this letter, it means that my career has ended, but at least I fought with dignity and I am happy, please know that I am happy!

To my brothers I couldn't have asked for better brothers. And to my parents- you're the best!

Love you very much
Daniel Pomerantz, your youngest son
G-d willing we will return in peace. Please tell my fellow soldiers that I loved them too!
(the actual letter is pictured on the right)
Such touching words from such a young soldier? Can you imagine writing such a letter to your family at 20 years old?!
What kind of letter would you write if you knew that today might very well be your last? Who would you write it to? Would it be angry or happy?
These are very powerful questions. Only you have the answer.
In the late 1800's, a Swedish Chemist, the inventor of dynamite, woke up one day to read his own obituary on the front page of the newspaper! "The Doctor of Death is dead' screamed the headlines, referring to the deadly substance that he invented. All the pain and death in Gaza today can be traced to this single man. Problem was that it wasn't him, but his brother who died. A technicality in journalism led to his experiencing an extraordinary awakening.
Realizing that his legacy would be so dark and evil, he set his mind to changing the way he would be remembered. He used his great wealth to set up a fund that would award prizes to achievers in literature, peace, economics, medicine, the sciences and more. Ever since then, you probably don't know that Afred Nobelinvented dynamite, but you certainly know him for the Nobel Prizes he founded!!
Perhaps an interesting perspective from my grandfather, Menachem Neiovits, an Auschwitz survivor who lost his wife and two daughters before his eyes. He went on to survive the war, marry my grandmother and rebuild a family against all odds. In his last years, living with us in South Africa, we found a note that he wrote to himself tucked in between the pages of his tear soaked ad beloved Talmud:
The past is gone, the future is yet to be, and the present is but a blink of an eye- so there's never any need to worry!
No matter what kind of life you've loved until now, you can easily and quickly turn it around, if you just set yourself to it!
If, G-d forbid, you were to leave the world tomorrow, what would your obituary say? Would it read the way you want it to read?