The forgotten soccer superstar
As the Champions League tournament is nearing a conclusion, with a probable all Spanish showdown coming up between Barcelona and Real Madrid, we should take a moment and remember that before Messi and Ronaldo, there were Maradona and Pele. And before all of them there was Matthias Sindelar.
Sindelar was the first soccer superstar. He was called the "Mozart" of soccer. He basically invented the game played by today's superstars. He was also a ladies man and the first player to become a "brand". In a sense, Sindelar invented sports merchandising. But more than all of this, he was a bona fide hero – the first victim of the Holocaust to be gassed.
Sindelar was an Austrian of Czech descent. He played for Austria's legendary national team of the early thirties – the Wunderteam. He was called the Der Papierene, the "Paper Man", because he could slip in and out of any dangerous situation. He was the first to dominate through brains and technique rather than brawn. He was also the greatest exponent of the coffee house soccer culture of Vienna, Budapest and Prague.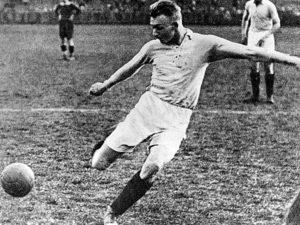 In the twenties, Danubian coffee houses became centers for intellectual soccer talk. These coffee houses were dominated by bohemian Jews who advocated soccer strategy over brute strength. Essentially, modern soccer tactics were shaped in these caffeine charged, smoke filled forums. Anti-Semites took notice of all this, accusing Jews of taking the "manliness" out of soccer. Sindelar, who was not Jewish, was the greatest exponent of "coffee house" strategy and a great friend of the Jewish people.
When the Nazis invaded Austria in 1938, they got rid of Jewish teams and Jewish soccer club owners and managers. They also forced the coffee house owners to sell their little universities of soccer tactics. The Nazis then decided to merge the national teams of Germany and Austria into one great "Aryan" squad. But before doing so, they wanted one last "friendly" between the two national clubs.
The game took place on April 3, 1938. The Nazis had decided that this all Aryan showdown had to end in a tie. At first, Sindelar played along, making a mockery of missing on purpose. But then, as the game was nearing completion, he knocked it in for the win. Not only that, he celebrated in front of the box, packed with high ranking Nazi brass. A few months later, Sindelar was found naked in bed, lying next to the body of his lover. They had died when gas was "accidentally" leaked into their apartment.
Today, despite being voted "Sportsman of the Century" by Austrian fans, Sindelar is hardly remembered. No sports institutes are named after him and no avenues. And yet, his gassing foreshadowed the Holocaust. Not only that, he also foreshadowed the Allied victory by scoring what is arguably the greatest goal in the annals of soccer. With one great, courageous kick, he defeated Nazi Germany and then rejoiced in front of thousands by putting on the greatest victory dance in history.