War and Peace in Tel Aviv
So I woke this morning to see my neighborhood featured on the morning news program on Channel 2.  Stationed strategically on the boardwalk with the Mediterranean Sea in the background, five minutes from my apartment in Old Tel Aviv, the broadcaster said that "Tel Avivians wake up to another tense morning."  The only problem was that as she was talking, about half a dozen joggers rushed by her, as did a few cyclists on their bicycles, a clear sign of normalcy.   I headed up to the outdoor pool on the 4th story of Dizengoff Center, the first and still human-sized mall in Tel Aviv, and expressed my surprise that the lanes were all filled with swimmers.   "Well", said Orit in the neighboring lane, "for a summer morning, you'd expect a bigger crowd."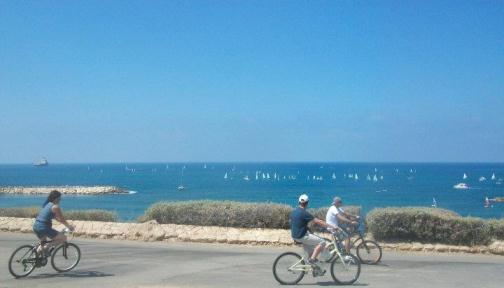 Joggers and bicycles on the Tel Aviv boardwalk
The scene in Gaza is not so calm.   This war/campaign/renewed cycle of hostilities or whatever you call it, officially given the awkward name of   "Operation Protective Edge" by Israeli government  – is tremendously out of proportion.   Using ancient biblical imagery and morality, it could be described as 100 eyes for an eye (at least).  And one of the amazing aspects of modern media technology is that the image and voice of a Gazan journalist appears on prime time Israeli TV, describing the suffering that he and his neighbors are going through.
Gaza and Tel Aviv, a very different tale of two cities
Yes, we have heard sporadic sirens over the past few days in Tel Aviv, which can be unnerving, but life goes on – also in Jerusalem where I spend half of every week.  It's the Israelis south of Tel Aviv who are the primary targets of the so far ineffectual rockets being fired from Gaza, and particularly the Palestinians in Gaza, who are targeted, with much human "collateral damage" by the Israeli air force.
A brief episode at a popular cafe in the Ben-Yehuda promenade in the heart of Jerusalem captures the atmosphere.   There was a siren in the middle of the World Cup game between Germany and Brazil, and the dilemma faced by everyone there was – should I go to the shelter and give up my seat before the giant screen, perhaps not being able to get it back when the all-clear sounds, or should I stay put?   While the waiters and waitresses opted for the shelter, all the customers stayed put. The scene at the Gaza sea-side Fun Time Beach cafe was not so serene, as eight customers watching the game were killed by Israeli bombs.
Site of the Gaza Fun Time Cafe after the bombs fell
Last night I headed out for early evening coffee at the Bread Story Cafe on Dizengoff Street, where regulars gather every Friday evening before dinner.   One fellow sitting there said "it won't end until we really show them, and defeat Hamas militarily."  He even said that he was once on the left, voted for Uri Avnery, but now "he doesn't trust the Arabs."  And I said there won't be a ground campaign – it's too risky for Bibi's political career, or a recapture of Gaza, and it's impossible to "crush Hamas" and arrive at a military solution – "only a political solution between Israel and the Palestinians will end the conflict and provide security and peace for all."
Bedouin Love Song
Sitting at the table quietly was Yitzhak Klepter, considered Israel's greatest guitarist, one of the seven members of the legendary Kaveret band, which filled the Yarkon Park with a crowd of 50,000 fans last year, just like the Rolling Stones.   Katya began to describe him in terms usually reserved for Eric Clapton – when he plays, you are lifted to heavenly spheres.   "So what have you been doing lately Klepter?"   A man of few words, he described how he recently performed some of his classic songs at a Tel Aviv University event – including Shir Ahava Bedouit (Bedouin Love Song).
Yitzhak Klepter, Israel's Eric Clapton at a cafe in Tel Aviv
That was my lead to talk about the all-day extraordinary Israel Conference on Peace organized by the daily Haaretz on Tuesday, since the original performer of the song, David Broza, appeared there together with Palestinian-Israeli singer Mira Awad, and the Jewish-Arab YMCA Jerusalem Youth Choir.
Yes, it's hard to believe, but there was an all-day peace conference in Tel Aviv in the middle of the war, with over 1,000 participants.
Yes, war and peace in Tel Aviv.
As Palestinian-Israeli writer/journalist Odeh Bisharat said when asked by friends why they didn't postpone the conference till after the war, he responded "and why don't they postpone the war?  Or even cancel it? After all this conference has been planned for months."
President Abbas and the Arab Peace Initiative
The message at the conference was clear.   It came from President Shimon Peres, from Israeli negotiating team Head Justice Minister Tzipi Livni, from opposition leaders MK Isaac Herzog and Zehava Galon, and many others – President Abbas is a partner for peace, and we should move forward towards making peace with him.
Peres added that the Arab Peace Initiative, launched in 2002 at the Arab League Summit Conference meeting at Beirut, which offers peace, recognition and normal relations with all 22 Arab countries, based on the establishment of a Palestinian state in the West Bank, Gaza and East Jerusalem, alongside the State of Israel, with an agreed upon solution to the refugee problem.
President Shimon Peres at the opening of the conference in conversation with journalist Ari Shavit
One of the primary achievements of the initiative was that fact that Saudi Prince Turki Al-Faisal contributed an article written directly to the Israel public and leaders titled 'Peace would be possible with the Arab Peace Initiative at its core."  This important act should not be allowed to get lost in the barrage of missiles flying back and forth.
The Americans should place framework principles on the table
There was also a warning from the final speaker, Philip Gordon, Special Assistant to the President and White House Coordinator for the Middle East, North Africa and the Gulf Region.  He said that while Israel could always rely on the U.S. to support its security needs, there is a growing international frustration with the Israeli government's positions, and the U.S. would not always be able to prevent actions that will affect the country's economy.
Tzipi Livni had a concrete suggestion that I support.  She said that U.S. Secretary of State John Kerry should place the American framework principles for an Israeli-Palestinian agreement, the outcome of the nine months of negotiations, on the table, so that the Israeli and Palestinian governments would be forced to provide their responses to concrete ideas.
Hope, not despair
Writer David Grossman, who lost a son on the last day  of the Second Lebanon War in 2006, gave a profoundly moving presentation at the conference, entitled "On hope and despair in the Middle East," which he dedicated to the late fighter for peace Dr. Ron Pundak.   In it he said: "Israel has, of course, many reasons to fear and to worry. The Middle East is in turmoil, fanatic and fundamentalist currents toss and turn it, and most of it is still hostile toward Israel and openly wishes for its destruction. But precisely against those dangers and threats, the policy of despair and dejection does not seem to be the right path to follow.
We who have gathered here today, and many others who are with us in spirit, insist upon hope. A hope that is not wide-eyed, a hope that won't give up. A hope that gives us – Israelis and Palestinians both – our only chance to resist the gravitational pull of despair." 
David Grossman, a call for hope against despair
Prime Minister Netanyahu was invited to make a presentation at the Haaretz conference of his vision for peace and he declined.  If only he would be ready to provide a vision of hope for the future, rather just continued warnings about the dangers on the horizon.                              
If he will not do it, then hopefully someone else will emerge on the Israeli political scene who will.