Featured Post
A beige pullover with buttons on the side
He survived an Istanbul synagogue bombing that killed 28, including dear friends, and changed him forever
Istanbul
November 15, 2003
A regular busy Saturday for the Jews of Istanbul.
My calendar had two notes for this day. One of them was the opening of the "Maazike Tora" — Torah study classes for the kids in the Şişli-Bet Israel Synagogue. The other note was for the Bar Mitzvah of Harun Kohen, my friend's little brother, in the Neve Shalom Synagogue.
November 15, 2003 – 9:30 a.m.
The last time I ever felt safe in my life…
The first explosion was at the front door of the Neve Shalom Synagogue. This explosion was so strong that its impact left a crater 3 meters wide and 2 meters deep.
The second explosion happened just 2 minutes later at the back door of the Bet Israel Synagogue.
In total, 28 people were murdered and over 300 injured.
November 15, 2003
The day I understood that there are people who are determined to erase me from existence just because I am who I am; because I was born as I was born.
Jew.
Today, after 13 years, I still experience the intense emotions I felt that day. The physical pain, the loneliness, the anger, the helplessness and self pity. The survivor's guilt…
I have written the above so I can find the strength to say what follows.
Today the President of the Turkish Jewish Community tweeted:
– "15th of November 2003: ..It has been 13 years that I had to ask a mother; what her son was wearing… For the people who are counting the years…"
A very simple reply caught my eye at the bottom of this tweet…
– "A Beige Pullover With Buttons On The Side…."
With tears in my eyes, and love and hatred in my heart: I'm sorry….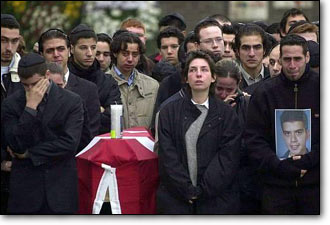 In loving memory of: