Featured Post
A Dream in Brno
An inspiring moment while dedicating a Torah scroll in a Czech city that's seen centuries of Jewish suffering
Franz Kafka's proclivity for irony, paradox, shadow and dream were thoroughly evident in this past Shabbat's dedication of a new Torah scroll in Brno, second largest city in the Czech Republic, 250 kilometers from Prague in southeastern Moravia. This sefer Torah is the first new scroll to be dedicated in the Czech Republic in the last 70 years, and is now the crown jewel in a complete rebuilding and rededication of the Agudas Achim synagogue, the city's only place of Jewish worship.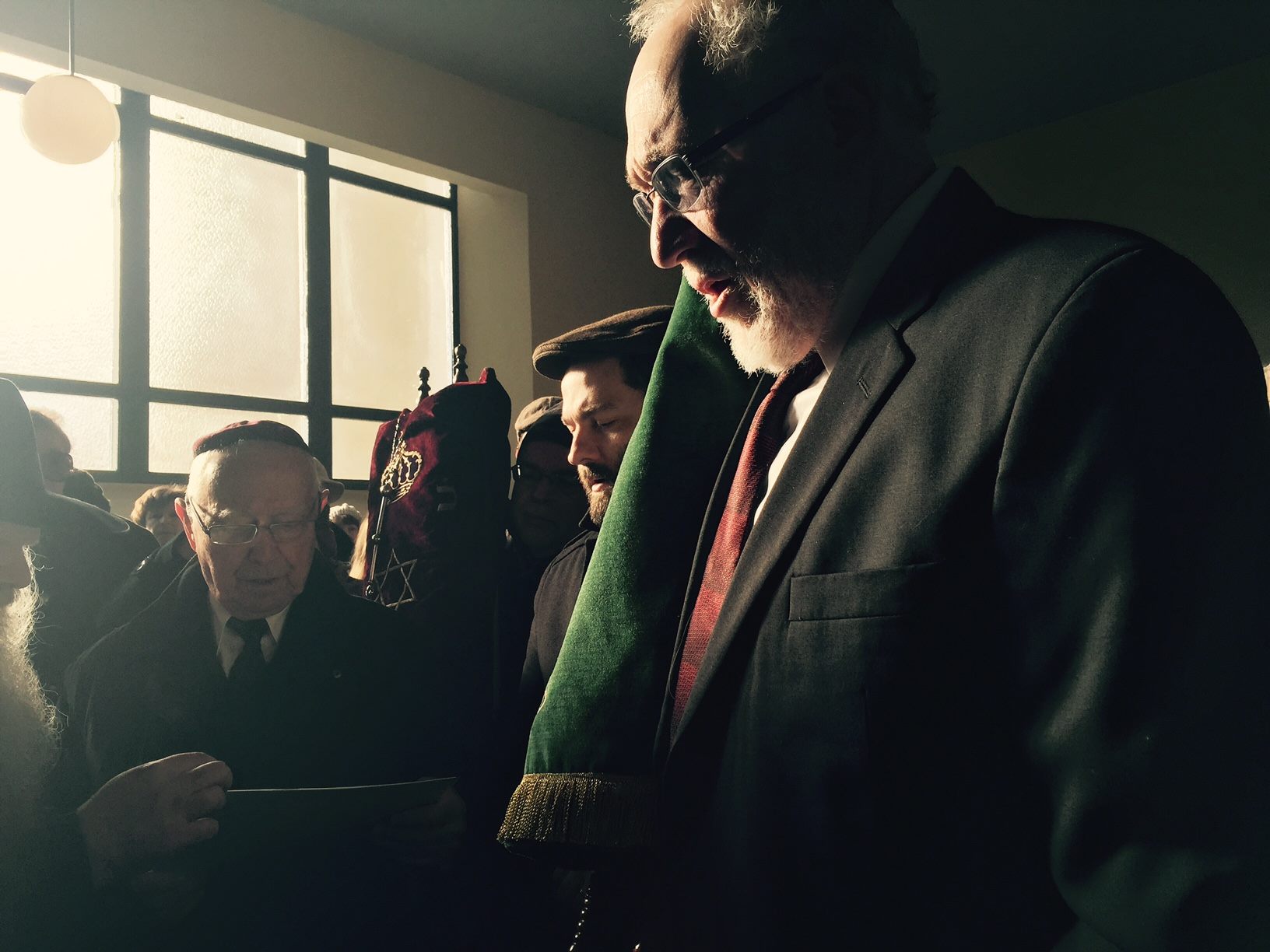 It is ironic that Brno – totally off the "Jewish world radar" – should become a beacon of hope, and it is paradoxical that its Jewish citizens, who may seem removed from Jewish life, should celebrate the event with such enthusiasm and sheer joy. Yet by all signs, this awakened community is resolvedly moving out of the shadows of the Nazi tragedy and Communist oppression. So much for Kafka's irony, paradox, and shadows. The dream I will return to.
Brno has known centuries of the Semitic struggle to survive. With the Edict of Banishment, promulgated by King Ladislaus V in 1440, its vibrant Jewish life was quickly dimmed as Jews were forced to leave the six major cities of Moravia. While a few quietly returned in the 1700s, the 1800s brought the reaction of the Familiant strictures, which only allowed the eldest son in a Jewish family to marry and to procreate. Despite these mandates, by 1940 Brno had 10,000 Jews, among them renown scholars, intellectuals, artists and architects. When the Nazis arrived, they moved the Židé, the yidden in a series of deportments to concentration camps. In 1945, seventy returned. Then the long Communist regime began.
Serious leaders of the resurgent community of Brno are Rabbi Menashe Kliment and his wife Katka. As a guest scholar, I and my wife Sheryl joined the Jewish community of Brno for the rededication of the synagogue and its new sefer Torah, and witnessed the deep impact that this young and brilliant Czech couple are having on their community. They serve with elation and lead by example. Everyone is welcomed to synagogue services, Torah study and festive Shabbat meals. I knew both of them as wonderful students of mine at Pardes (Rabbi Menashe received semichah from me and from the Gaon Rav Aryeh Strikovsky), and it was amazing to see what they are accomplishing as leaders in their own right. They are surrounded by a fascinating mix of people, each one with a profound or unusual story, who are starving for a word of Torah, a connection to the Jewish people, a warm welcome, or a slice of kugel.
After Friday-night services, we returned to our lodgings in the old city of Brno. On a cobblestone road, near an ultra-fashionable clothes shop (named "Revolution" – what else?), behind an old and heavy wrought iron gate, through one courtyard into another was our room, and after a long day travel from Jerusalem, rest.
I was awoken in the middle of the night by an apparition I could barely make out, who in a Czech-accented lament complained, "What, don't you remember me – what am I, forgotten by you?" I stumbled out of bed, drank a glass of water and again fell asleep. Once more I was awoken, by the same complaint, the same ghostly vision. I screamed out – "You are drunk! Go away!" and dozed off. The third time, I felt the ghost's arms pressing down heavily upon my chest, his voice urging: "You must remember me." I sat up. I saw the face. And then I remembered. It was Heinrich.
Years before, in 1981, with the encouragement of Rabbis Moshe Hier and Abe Cooper of the Simon Wiesenthal Center, where I was Director of Education, I began a long investigation into the religious life and spiritual resistance in the ghettos, amongst partisans and in the camps. In the course of this work, I met a man of elegant, slight demeanor with an impressive, carefully combed silver mane, sad eyes and a slight smile. This was Heinrich – in Southern California he went as 'Henry' and even 'Hank'. He was originally from Brno.
He told me the following (based on my notes):
Rabbi, we were not a religious family. We were actually more German than Jewish. We went to a German language school, and my parents' dream was that I and my older brother would go on to one of the great German universities. One night during the deportations, my older brother woke me up, shaking me and asking me to be quiet so as to let my parents sleep. He said that tomorrow the Nazis were going to burn the synagogue by the railway station, including all the Torah scrolls. I dressed quickly. The two of us slipped out. We went against curfew, but we knew the station like the back of our hands. The synagogue was guarded and locked. But we found a way in. Each of us carried out a scroll, and we knew where to hide them.
Heinrich survived Terezin and Auschwitz; his brother did not. I told this story Shabbat morning to the Brno congregation at shul. They insisted that I retell it Sunday at the dedication. The organizers expected a little over one hundred people to come, but 300 were there, full of exultation, intensely focused on all that took place, filling the synagogue to overflowing. Bringing this newborn Torah to the synagogue was a techiyat hameitim (a resurrection) moment. In that moment a fragment of a dream was meaningful to them. Sometimes, you only have a fragment of a history, an identity, a few words of Torah. But one fragment connects with another. And with that Menashe and Katka build.