Featured Post
Capy, Japan's Entrant in Microsoft Ventures Accelerator Tel Aviv
A Japanese cyber-security start-up feels right at home in Israel
On September 7, 2014, 11 startups began their 4-month stint at Microsoft Ventures Accelerator Tel Aviv. This group of startups, which is the 5th batch for the accelerator, was selected from almost 300 applicants from 32 countries, and includes not just local Israeli teams but teams from Spain, Slovenia, India and Japan.
The Japanese startup is Capy, a Delaware-incorporated, Tokyo-based cyber-security company established in 2012 by CEO Mitsuo Okada and CTO Koki Shimada. Their first product is a customizable graphics-based puzzle CAPTCHA ("Completely Automated Public Turing test to tell Computers and Humans Apart") system. Capy's puzzle CAPTCHA system creates a picture with a missing jigsaw puzzle piece that a user has to correctly place. It's a task that comes naturally to people but is extremely difficult for automated systems ("bots") to successfully perform.
Capy secured $50K in seed funding a month after establishment from William Saito, who is a serial entrepreneur and angel investor, then a $1M series A financing round from JAFCO in 2013, which is one of the largest venture capital in Japan. The puzzle CAPTCHA system is already available in the market and is being utilized by major enterprises including one of the biggest telecom companies in Japan. In addition, Capy is now working on developing risk-based authentication and anti-phishing technology.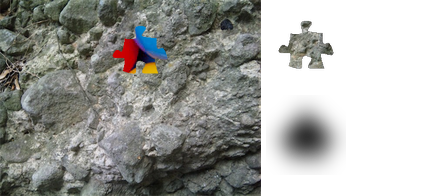 (An example of Capy's puzzle CAPTCHA)
Mitsuo and Koki met while both were students at Kyoto University. Mitsuo was a Ph.D. candidate in Computer Science and Koki was an undergraduate. While Koki was earning his undergraduate degree in Economics, he was also a programming and hacking enthusiast who has been writing code since he was 10 years old. The two got together to collaborate on an IT security project, which grew into Capy.
I had the pleasure of meeting Koki, who is currently in Israel representing the startup at the accelerator.
(Koki with his "classmates" at the Microsoft Accelerator – sixth from left in the front row)
Q&A with Koki (edited for conciseness and clarity):
Q. It's still unusual to see Japanese tech entrepreneurs in Israel. Do you think we'll see more in the future?
A. It will happen, but not quite yet. Even with the increased exposure of the Israeli tech scene in Japan, the view that one is endangering his personal safety by coming Israel has been hard to shake off. For example, my investors were very worried about me taking the buses and trains, and even the official Japanese government guidelines still advise against it. After spending the last 2.5 months here and personally seeing how normal everyday life is here in the Tel Aviv area, I can say that the perception one gets while in Japan about the security situation here is skewed and overblown. That being said, I must admit that the recent unrest in Jerusalem and the stabbing in Tel Aviv has made me a bit nervous. Also, even with Japan's recent boost in interest in Israel, there is still a relative lack of personal contacts between Israelis and Japanese. It remains hard for people in Japan who are interested in coming to Israel to know how to best make it happen. Things are definitely improving now, and I hope to help be one of the new bridges connecting the Japanese and Israeli tech scenes. Especially once I return to Japan, I hope to engender stronger ties that will result in more entrepreneurs coming here from Japan.
Q. I understand this is your first time in Israel. What about the country has made the biggest impression so far?
A. Being a technology-oriented cyber-security startup, we were considered to be very unusual in Japan, but it's quite normal here! I already knew that Israel was strong in cyber-security, but I only got a full sense of just how strong the community is after I got here. Generally, I have been very, very impressed with how the start-up community here is tackling fundamental technological issues. There is much more "real" technology being developed here at the startup level compared to Japan, and even compared to Silicon Valley. I hope that the Japanese startup scene tries to catch up in this regard, instead of being too focused, as they are now, in consumer-oriented marketing and gaming.
Q. How has you time been at the MS Accelerator so far?
A. It's been amazing. We have a wonderful office and great access to high-level mentors and connections. I still can't believe that they're not taking any equity! The first half of the program has focused on customer research – defining customer needs and adapting our product and marketing to address those needs. It turns out that we are farther along in many respects than the other startups in our accelerator class. For example, we already have VC funding (with JAFCO) and a product (our puzzle CAPTCHA) that's already in market. Nevertheless, most of our customer research up to now has focused on Japan, so getting an opportunity to focus on researching the U.S. and European markets in depth has been extremely valuable to us. In the past few months, we have come to appreciate even more the different challenges we face in the U.S. and Europe. In Japan, we were one of only a few local cyber-security companies, and our local customers had less security expertise. We therefore had less competition and more willing customers. In the U.S. and Europe, there is more competition, and the customer are more savvy and drive a harder bargain, so we have been working hard to further fine-tune our marketing. Also, we found out that we have know-how that could help with anti-phishing efforts, which represents a big market than we had not originally considered. We're thinking hard about how to best apply our technology and skills to that arena. In fact, Microsoft has already introduced us to domain experts to help us with that effort.
Q. What are some next steps for Capy?
A. As I said, we're looking to develop technology in the anti-phishing arena. Also, we plan to ramp up our presence in the U.S. and Europe. We're already starting to look for local developers, engineers and business development people in those markets. We're also looking into getting a stint in some of the major Silicon Valley-based accelerators. It will be great if we get to work with them too.