How not to lose your plot in Israel…
Years ago, like most teenagers I enjoyed the romantic aspects of Far and Away ("Tell me ya like my hat Shannon!") and I think deep down, most people have the ideal of owning their own bit of land to scratch around in, possibly with a white picket fence and a decent garden. With house prices shooting up in the UK this was very much a fantasy, especially if one wanted to live in an area with other Jews. Not to mention a synagogue in walking distance and a bit of kosher food.
I had all but given up on the idea until we moved to Eshchar (a yishuv in the Upper Galilee). We arrived just in time to for the release of the next set of plots in the new neighbourhood (also known as G3) and have since been dutifully attending meetings, trying to follow streams of correspondence, technical stuff and goodness knows what else. Several months ago we signed our lives away for a plot of non-existent land in the next shlav (stage) of the yishuv, and then we had to wait whilst the elected committee (from among us – the buyers) sorted out technicalities such as; should they flatten all the land to make the plots uniform or let people work with what they get. Who pays for the stairs and other in-between bits? Etc. Sigh. Then of course we all had to decide which plots we ideally wanted (from 34). The potential views ranged from Karmiel, to the rolling hills of the Galil, to the Arab town of Sakhnin (and the Hapoel Bnei Sakhnin football stadium). Peoples responses to deciding on their choice plot ranged from hiring an architect to get specialist opinions on the lay of the land (a risky business seeing as it's a lottery and you may not have any choice in the matter if you don't get lucky), to in-depth discussions and mathematical algorithms to rank the plots, to sitting down one evening in the final week with a glass of wine and a map (us). Anyway the day finally came, last Friday morning, when we got to pick our plot.
For those of you who have no idea how this works, here is some inside info. I am not making this up.
There are 34 plots up for grabs, and the yishuv whittled it down to 25 genuinely interested families (i.e. people who paid their money, submitted all their paperwork and rocked up on the day). After a brief discussion and intro reminding us that although we may have our hearts set on a particular plot of land, there is a lot that can be done with decent architecture, and at the end of the day, you can't beat good neighbours. Cue the song…cheesy, but true. We have been lucky with our neighbours in both houses since our aliyah and believe me, it makes a huge difference when you are new to a country.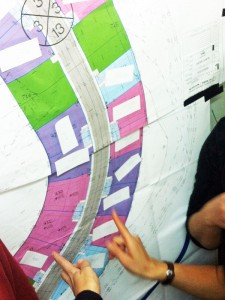 Then they wheel in a large map of the plots, 2 Jester hats and a lawyer (a friend of ours on the yishuv who was willing to do this on her day off)! Then they proceeded to call out family names from the first hat. One representative from the family then had to go up, pick a number from the second hat, and this was the order in which you got to choose your plot. In other words, if you get number 1, you are the first to choose. If you get 25, the last. The atmosphere was intense, let me tell you!
Most people either husband or wife went up, some actually let their kids/babies make the selection. We had Roni with us but Husband decided this was far too risky – what if he picked a rubbish number? What would we do? Sell the kid? Blame him forever more if we had a rotten view?? Seeing as Husbands surname is actually Yiddish for luck, there was no question he was going up. I have never won anything in my life (except for a La Senza coupon and some Bourjois mascara about 9 years ago in a magazine comp). He always has a winning raffle number. This used to be a source of great embarrassment to me at fundraising events which I organised as I would procure the prizes, then drag him along on the day, get him to buy a ticket and then have to explain to the donor why I was back again to collect the prize/free meal. So it was obvious he was going up.
Thankfully, we picked number 8, so I haven't given him the boot. We were especially lucky as this number actually resulted in us getting our 4th choice of plot, which is pretty good out of 25. We are now the proud owners of lot number 413 on the outside circle of the yishuv with views of the Galilean Hills and the Golan. We have been told that although we have the benefits (and downs) of the mountain winds, we will be invaded by hungry hyraxes if we attempt to grow anything. Frankly I don't care. After 3 long hot summers in this country, I would rather take the free air-con. Besides, I lived in a windy place back in the UK and it was far more pleasant in the summer than the rest of London. We also got lucky with our neighbours (phew). Nice people on both sides. In fact our dog will now be living next-door her ex-owners. This might be a little strange for her, but easier for us if we ever go away!
The whole experience was frankly bizarre as you really want to get the ideal plot but you want to friends to be ok too. Towards the beginning there was a lot of tension as people only seemed to be picking low numbers (somebody hadn't shaken up the hat, it seems). As happy as we were for our friends, it dawned on us that this meant there wouldn't be much good stuff left. Then a nice girl who lives on the yishuv picked number 25 and it was an awful moment. What can you say? What are the chances that the 24 people ahead of you will leave you something you wanted?? I am thrilled to say that number 1 choice went to a good friend of ours, who is actually an architect (so this was all doubly important to her) and seeing as she is so lovely there was a huge cheer and a lovely atmosphere when she announced her number. Meanwhile her husband, a very sweet guy who would happily give away his right arm to make someone else happy looked frankly shell-shocked. I don't think he quite knew where to put himself. She then spent the next hour helping all her friends make decisions based on what choice they had. God bless her.
After all the drama, Husband then took Roni up onto the new shlav to take a look at what we had chosen. The view is spectacular and we feel truly blessed. And thank god where was no wild horse race. It was all remarkably civilised.