Introducing 'Far Star' & Chatting w/Israeli Jazz Guitarist Gilad Hekselman
Far Star is the title Israeli-born jazz guitarist, composer, and bandleader, the consistently abuzz Gilad Hekselman, dubbed his new–or to be safe–most recent studio LP by a jazz combo which Hekselman headlines, released on and distributed by Edition Records. It officially dropped on May 13, 2022, and you'd do good to check it out streaming or get your hands on a copy. As per always–it seems–Gilad Hekselman delivers high-quality and impressive interpretations of modern and contemporary jazz.
I was randomly one day–much earlier in the year– contacted by Gilad's public relations agent–(or perhaps he was a representative for Edition Records). I was anything but reticent to acquiesce to the invitation: a solid opportunity, and not forget to honor the emotive phenomenon of gratitude I felt, and still feel, and try to keep up front. Gilad's PR agent from Edition Records was located far away in London, but he was only a textbox and a click away from cyber communication. (Gilad–it turned out–had been hanging out near me–and last I caught up with him in around mid to late April–in my neck-of-the-woods in roughly the same stomping grounds of South Brooklyn. We had been exchanging emails and Zooming, but I had to decline his offer to meet up in person the day we attempted our official interview, as I was tied up due to unforeseen circumstances: a veritable "drag", and not to mention I was feeling under the weather).
I had though, thanks to Gilad's or Edition Records' press and PR man in England–who took it upon his own executive job functioning towards the objective of selling and building a remunerative, capitalistic culture around the new studio LP by Israeli-born jazz guitarist–quite famous and already renowned, not to embarrassingly be confused with his fellow contemporary jazz guitar stalwart; an existential coincidence, the slightly less extroverted in persona (it seems), and increasingly progressive-sounding in terms of the style of jazz composition and jazz improvising on the electric guitar: American-born Kurt Rosenwinkel. These two contemporary, thirtysomething, (incidentally) both Jewish, contemporary or modern-day champions and heroes of jazz guitar serve one another as counterparts. The American, and the Israeli, together they serve to define a scene, a trend or movement happening in modern jazz today; namely in New York City. But for our purposes we are sticking to the Israeli, Gilad Hekselman, and concerning ourselves with his highly-listenable and original new studio LP for Edition Records, entitled, again: Far Star.
The first track, 'Long Way From Home', features whistling-in-harmony to state the theme (head). The harmonic progression builds and builds, as if composer, Gilad Hekselman, were using building blocks to create the harmonic 'Tower of Babel'. There is an electronically-sequenced beat–if not–then Eric Harland is a tone magician of a percussionist. The song has characteristics of a Gaelic folk ballad, Gilad's nonstop single-note improvisation, weaving and pivoting in and out of the melodic head (theme), is fiery and true, and preserves the work's jazz authenticity. 
Like the first track, the second track, entitled, 'Fast Moving Century', features Eric Harland on drums and fellow Israeli, Shai Maestro, on piano. The 'A'-section of the melody is played in a decidedly rude dissonant harmonic voicing of either double or perhaps triple-stops, yet the former is more likely. 
The way Hekselman states the theme of his pieces on the new record, especially on the first two tracks off of Far Star, 'Long Way From Home' and 'Fast Moving Century', is out of the ordinary. For instance, 'Long Way Home' features whistling of the melody or head, and 'Fast Moving Century' has dissonant-sounding layers of harmony to state the song's melody or theme. "I really gravitate towards strong melodies," says Hekselman, "And that's really something that keeps my heart in it. I enjoy a lot of cerebral things," he admits, "But at the end of the day if the melody is strong, and…[gets] stuck in my head, it can be part of my life soundtrack; that's kind of what I am looking for in creating my own music."
Hekselman continued, "I also have a great fascination with rhythm. A lot of my compositions try to combine those two elements: My enthusiasm towards rhythm, but also, my love for a great melody. The songs–the way I write them–is, if I get stuck with a melody point, I'll think of lyrics, I'll think of a line and try to [write] a melody to it."
Since his debut studio LP was released in 2006 on the Smalls record label, 2022's Far Star is Gilad's ninth studio LP to date, though most of the time when Gilad Hekselman drops a new studio project it is recorded on and distributed by a different record label seemingly each time. What sets Far Star apart from the previous eight studio undertakings as bandleader, is that Gilad filled the role during the sessions as the album's producer. A debut cameo in that role. 
"It is the first record that I've produced to this extent. The previous records have some moments where I did overdubbing and editing. This one is really cooked on the computer, [at least] for a big portion of it. I don't consider myself in any kind of a way…an expert… It's something I've dabbled with for years. But never to the point where I thought I would ever make a record like this…" Gilad explained early-on in our interview. "I wrote a lot of music right before the pandemic. And during the pandemic I was basically preparing those demos at first. We didn't know it was going to last [so] long. So I figured, I'll just make those on the computer and when it comes time to play with a band again…I'll send them the demos…" he continued, "As I was doing it, I had a lot of time on my hands, like most musicians, I ended up just getting really into it;  and I ended up studying it online and getting really into it…" he repeated that phrase twice, but it was clear what the young Israeli-born jazz star was striving to get across. "I learned a ton, but I [sometimes] feel like I don't know what I'm doing, which is sometimes a good place to be. So those compositions existed already…To produce them, I was basically going through the process of: instead of trying to imagine it for a band specifically, I was not limited anymore, because I could use any sounds I wanted." He went on and became more specific, relaying that, "…if i wanted to hear somebody record some strings on it, [the track], I could send them an email and make that happen…or of course there was like endless amounts of sounds that I could use; so I ended up…I started to think of the live [context] of it," he started at this point in the interview to think aloud, in order to answer the given interview question, responding in detail that, "…tapping into my imagination, if I had [an] unlimited budget and unlimited resources, and unlimited amount of musicians, what would I hear now(?)" He asked in a naturally rhetorical nature, continuing in this stream of thoughts: "…when you start thinking like that it kind of opens up a lot of [doors] that normally on a jazz record [is something] you don't get to do. I am kind of closing my eyes and listening to the sound and imaging what sounds would satisfy those feelings for me; and it was a really fun process…and the process of mixing which I also didn't know much about before; I basically just studied it online,[and] spent many hours on YouTube and talking to friends who are great producers…and getting advice and playing it endlessly for people…and getting comments and stuff…"
From here he went on to say, in opening-up about his creative process: "I approach it [record production] with a lot of immunity, because at this point I think I still don't know what I'm doing…but I do know, I have ideas and my ears are good…they can notice things. I am very particular about sounds…it is just a matter of how to get there and that I have to learn how to do…," he said. 
"Another thing about that, you asked about specifically within the jazz idiom: I did want to keep the feeling that it is still human; so, I try to as much as I can create something that feels like interaction, something that doesn't feel like it is completely isolated; but something that feels like it could have been in some ways played live; but with that endless access to any instrument I wanted [sic]… I wanted to keep that liveness about it, that human element; that was a part of it, for me, that was important," he said, concluding his relatively expansive and detailed response to the second interview query prepared and put forth. 
The lineup on Far Star is as follows: Gilad Hekselman: Guitars, Keys, Bass; Eric Harland: Drums (track 1, 2, 3, 5, 6); Shai Maestro: Co-production, Keys (track 2); Nathan Schram: Viola, Violin (track 4); Oren Hardy: Bass (track 4); Alon Benjamini: Drums, Percussion (track 4); Nomok: Co-production, Keys (track 7); Amir Bresler: Co-production, Drums, Percussion (track 7); and finally Ziv Ravitz on drums on track 8. Besides for Gilad Hekselman, the headliner and bandleader, composer of most of the material, himself, the best known name among the musicians in the main combo, or who are featured on the LP sitting-in is the young, celebrity jazz drummer, Eric Harland. 
"Eric…it is publicly agreed upon that he is one of the greatest living drummers; but he is also a great producer…both when he produces direct, but also when he plays, he kind of thinks like a producer," said Gilad, "He will change up the sounds and change up the different vibes. He will create a story, in the quote unquote production of the song, even when you do play it live…him and I, we started playing before the pandemic…and the connection was strong and the vibe was great…" 
Hekselman–when asked about the addition of drummer Eric Harland to the recording lineup for Far Star shared a brief anecdote: "I spent a year in Israel, and when I moved back to New York in 2020…I wanted to record drums on all those tracks I had produced, because I didn't want to have programmed drums. I wanted live, and Eric was just an obvious choice; he is so good and so aware of how to record and how to create a story in sound."
While the music on Far Star is unmistakably jazz–perhaps, progressive jazz–there are subtle yet existent electronic and synth-influences. "These are some of the songs that when I close my eyes and imagine what would sound good now…[if] it was a key bass, or…mellotron strings…[or something]..once I started producing like that, I started listening to albums differently [and] produced records. I became very curious about what are the affective moments and what moments affect me specifically…basically I found a whole new way of listening to music which was very exciting and very [educational];…" Gilad continued to make his point, saying that: "[There were] a lot of different sounds I hadn't heard before, but is it a new direction?" he asked aloud suddenly, not being clear whether he was intending to be rhetorical.  "I definitely want to create more of this in the future, but I also really…love playing live with people; in fact we're recording a few nights here at the Vanguard; and we're playing the same songs; so there'll be versions of those songs played by humans in the same room; and not just any room, but that magical room; so it will be nice to compare the two."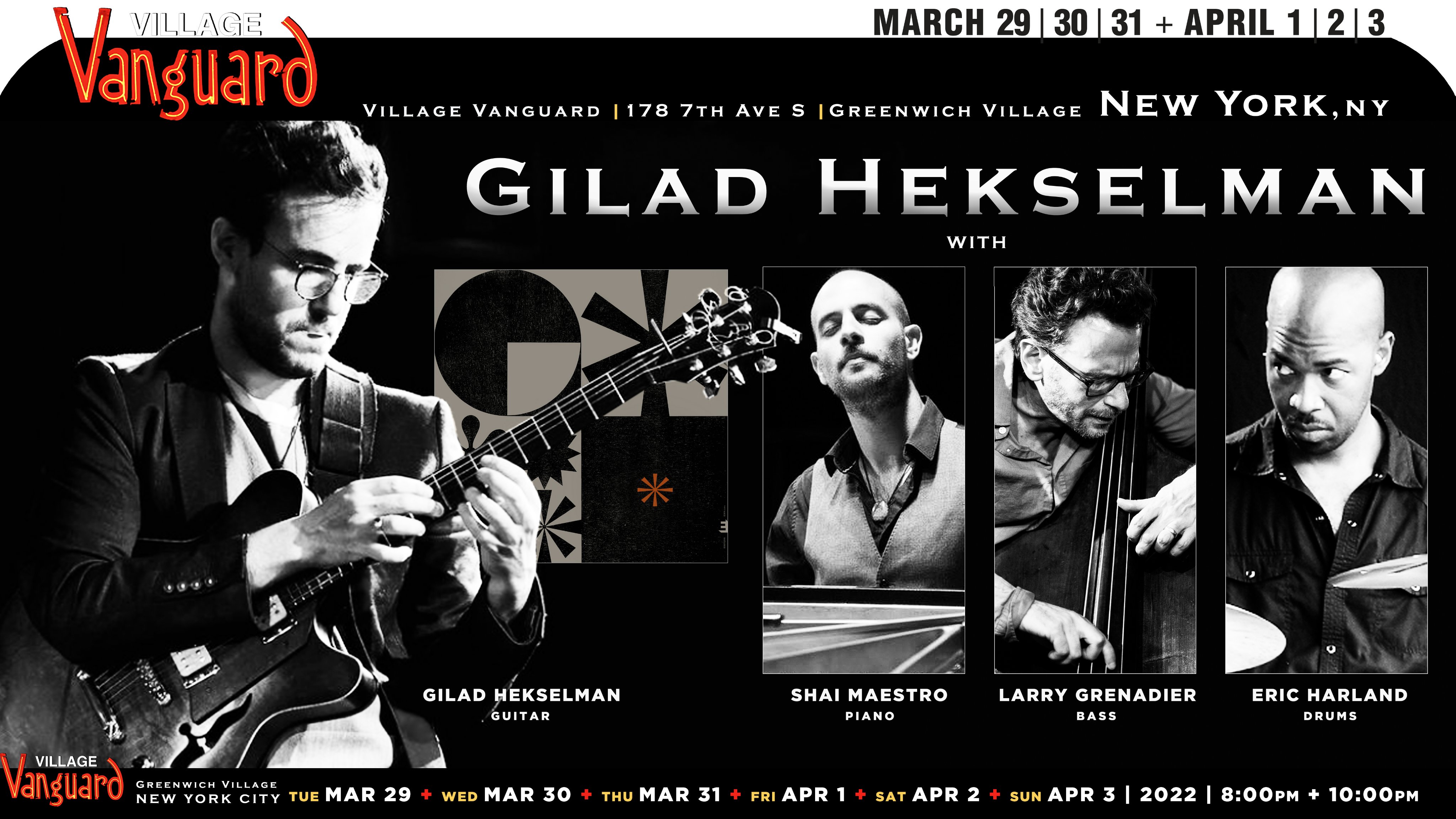 When Gilad mentions The Vanguard, he is referring to the legendary and timeless Greenwich Village jazz club, The Village Vanguard, on seventh avenue and down around eleventh street. Late last winter, and into early spring, Hekselman booked a residency at the club–just recently reopened post-covid. He–guitarist and bandleader, headliner, Gilad Hekselman appeared and performed with fellow contemporary jazz (namely on the progressive tip) pianist, Shai Maestro, who records on ECM; the elder and even larger in fame and notoriety: Larry Grenadier; and lastly, Hekselman and company were able to luck out the audience at these performances with the addition of Eric Harland on percussion. Shai Maestro, the Israeli pianist, making splashes recently in contemporary jazz on the international scene, plays with Gilad Hekselman, Shai's guitar-picking counterpart, often, or so says Gilad. "Shai and I go way back," he says, "Over a decade… He is a few years younger than me… He told me that [my records] were influential on him, and he is influential on me. We are very close friends…he is a pleasure to work with, and also a brother on-stage."
Around four-and-a-half minutes into the title-track, Far Star, there is a synthesized effect which takes the lovely solo, bridging the stylistic and genre gap between contemporary jazz and fusion. "I use[d] a MIDI-controller on that one," Gilad says, probably not intending that he hooked his six-string electric guitar into a computer program with a bank of MIDI sounds, sent also through some useful electronic interface, in the late-'80s and early-'90s style of Pat Metheny, MIDI-guitar pioneer and innovator. However, instead it seems more likely that Gilad Hekselman, while recording the new studio LP, recorded the synth sounds with a traditional keyboard MIDI-controller, the standard.  "A lot of the solos, they kind of started…because [they were] demos, I was imagining a lot of musicians I love, and a lot of sounds I love, imagining that they would play the solo…I was just using a MIDI-controller…and finding a sound that would be really expressive."
When I was most recently living in Israel, over a decade ago, Pat Metheny–it was announced in The Jerusalem Post–would be playing a two-night stand at the Tel Aviv venue, Hangar 11, with an "all-star trio" featuring Larry Grenadier on bass and Bill Stewart on skins. I scrambled to contact Metheny's agent, and book an interview which I'd publish, perhaps along with, or as part of a show review as well. I did not attend either Pat Metheny performance in Tel Aviv. I did however finagle myself an interview–more like questions and answers, real cut-and-dry, with the American jazz guitar virtuoso of the late-fusion to contemporary eras. I couldn't seem to impress, or get this one past the then-managing editor of The Jerusalem Post, Dave Brinn, who used to double up his executive news publishing role at the Israeli, English-language broadsheet of storied and legendary history, and write frequently on music; namely classic rock type stuff; must have been his taste in grooves, and fun to write about even if he was an overaged hog for space in the daily paper. My interview with Pat Metheny was–as I could have guessed–rejected by Dave Brinn at The Jerusalem Post–but salvaged and published, right away, online on the JazzTimes website–on December 1, 2011–(a magazine I used to read as a teen quite frequently). My last question to the virtuoso superstar of jazz guitar, was has he been enjoying any Israeli jazz musicians, or did I specifically ask, specifically guitar players lately? His response revealed he was quite sure whose name was worth a drop, even without pausing to rack his late-middle-aged, artistically prolific and as luthier, composer, performer, instructor, entrepreneur: ingenious(!). Without hesitation he spat-out the name for me: G.I.L.A.D. H.E.K.S.E.L.M.A.N. This was all the way back in the winter of 2011; I had indeed already heard of Hekselman's name, even way back then, before Metheny dropped it for our interview, and I recognized him as being a young jazz guitarist–and a Sabra. 
While Gilad doesn't really admit it, to me, I insist, Hekselman's tone often reminds me of Pat Metheny's tone; not derivative, I stress, but I was under the impression: influenced by at least. "I've been compared to [Pat Metheny] before, and I take it as a compliment, because he is one of the biggest innovators on the instrument and an amazing musician," began Gilad Hekselman, the ripe fruit of the newer generation. In JazzTimes I quoted Metheny on Hekselman–now all these years later I was listening to the ramblings and pontification produced by middle-aged Israeli jazz-star Gilad Hekselman, on virtuosic icon: Pat Metheny. What a change; what an inversion; what a catch(!) "I have nothing but really big respect for him, we know each other…I came over to his house one time…I think that Pat's influence is so strong, that his influence echoes [in] probably 95 percent of jazz guitar players these days…" 
Gilad paused to think a moment and continued, "While I can't say that he is somebody that I spent hours and hours listening to growing up–( I was really into Wes [Montgomery], and I was really into a lot of piano players and saxophone players, and those were people I spent a lot of time transcribing and studying)–[and] while I can't say that he is a massive part of my journey directly; he is definitely somebody who[m] I admire and somebody who influenced the instrument [the guitar itself] period; and it is kind of unavoidable not to be influenced by Pat Metheny in some kind of way. I also admire his career, that's something I'd really love to be able to one day be able to say…" he said, concluding, "It is really admirable how prolific he is…"
To continue on with drawing stylistic influence and inspiration from the former generation of jazz guitar innovators and superstar celebrities, even iconic American artists, and how these guitarists of the jazz genre were influential to a Millennial from Israel. The minimalist melodic theme of the song, 'The Headrocker', from Gilad Hekselman's new studio LP, entitled, Far Star, sounds like something that might not have been given form and animation without the stylistic precedent of John Scofield, both in tone and slow, economical lyricism and show of restraint in note choices, as well as multiple-note runs and fills built off of scales–or so it seemed to me. Hekselman neither insisted my astute observation checked out, nor denied this altogether(!). He instead responded by saying: "John Scofield is another hero of mine; I love his playing. He is incredible, I saw him recently doing a solo set; we taught in the same guitar clinic series. He played a 30-minute solo set that sent us to outer-space; nobody plays guitar like that, it's really incredible…" Gilad continued, "That song ['The Headrocker'] is more influenced by [somebody else, actually]; I can totally see how that association would come up because he does kind of do funky stuff like that. He is one of the greatest, I cannot specifically say that I thought of him when I wrote that song ['The Headrocker' from Far Star, however], but I can see how you would make that association for sure. 
Before we ended the interview, the great Gilad Hekselman told me some brief points about his upbringing as it shaped and serves to understand in retrospect his musicality and musicianship. The piano was Gilad's first instrument. But the first style of music he was inspired to imitate or recreate was the music, in vogue especially then–and now, and forever, of Michael Jackson: The King of Pop. "I played rock ['n' roll] when I was a kid. My moment of, 'aha, I want to be a musician…' was when I saw that Michael Jackson man [sic], I put [his] posters on my walls, and got really really into his music…That was when I saw the movie Moonwalker. And I became an obsessive fan of his… I learned how to do the dance moves. [I was] about seven or eight[-years-old]," he tells me. "Then I started playing guitar when I was nine. I got pretty good quite fast, and then I started playing in different rock bands with my friends. And, in fact, when I was, I think, 12, I got an actual, professional gig playing on a TV show, what used to be channel 6, which is the children's channel in Israel…" explaining so much it turned out; from here his childhood story went from cute and poignant, to fascinating and making some sense after all. 
"They had a weekly show with this host, Eitay Segev [sic]. He had a band, it was kind of a late-night show format, but for kids. I was in the house band…that was rock, playing kind of production rock [sic]…actually through that experience I got exposed to fusion…and then I got into some more fusion type of stuff, then I went to high school…and that's where I actually got exposed to real jazz. I didn't know who miles Davis was; I had heard Miles Davis, but I didn't know it…That's kind of my journey into jazz: Michael Jackson; then rock; then heavy metal; then fusion; [and] then jazz. […] And here I am today," are the last words Gilad Hekselman offered me in conclusion of our interview, marking the release of his ninth studio LP as headline jazz guitarist, entitled, Far Star.