The unknown tale of Dr. J. Ida Jiggetts and Israel
How did an African-American, North Carolina Protestant, descendant of slaves, whose father was a Presiding Elder in the A.M.E. Church become the first African-American to study in Israel after it became a state?
Here is the mostly unknown story of Dr. J. Ida (Bobbie) Roberts Jiggetts.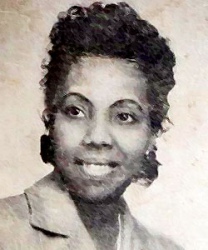 John (yes, her name was John) Ida "Bobbie" Roberts was born April 4, 1901, in Washington, D.C., the daughter of Rev. John Wesley and Ida (nee Roberts) Roberts. It's notable that Ida's name was also Roberts. John Wesley was the great grandson of Silvy Fulenwider Magness Roberts, a slave in Cleveland County, North Carolina. Her 4th (of 7) daughter was Kitty Bird Roberts (b. 1804) who married Big George Roberts, a fellow slave on a Cleveland County plantation. Silvy's seven daughters married seven male slaves who became something of a family, as they toiled together. Ida Roberts was the grandaughter of another of the seven males. Through terrible beginnings in America, the family built wondrous things.
John Wesley, for his part, became an elder in the CME Zion Church and founded Roberts Tabernacle CME Church in Shelby, N.C. He moved the family back to Shelby during Bobbie's infancy to become presiding elder, and would then become the first principal of Cleveland County High School. Ida was a longtime teacher, and the first woman ordained, in 1915, in the CME Church.
Bobbie's parents were educated. Her father, John Wesley would continue his schooling, where he would earn a B.S. and D.D. John Wesley and Ida were also deeply religious people. This influence would cast a tremendous influence over young Bobbie.
Bobbie graduated Allen High School in Asheville, N.C., in 1918, when she completed her R.N. at Mercy Hospital and School for Nurses, and she would later earn her M.S.W. via coursework in Medical Social Work and Public Health Nursing at the University of Pennsylvania.
She married attorney J. Philip Jiggetts and moved to Harlem, N.Y. She would continue her education at Teachers College Columbia, where she earned her B.A. and then her M.A. and  Ph.D. from NYU in 1957.
She would have a storied and busy career, becoming Director of Social Services at St. Mark's Community House, supervisor at the Department of Welfare, New York City, and counselor at Furness Junior High School, Philadelphia. She became a medical psychiatric social worker with the Veterans' Administration in New York City – the first African American appointed to such a position. She would then take a similar position with the Department of Mental Hygiene at Manhattan State Hospital. She moved to the Bronx After-Care Clinic then would become director of social services at Riverside Hospital in New York City. In the 1960's she would consult for the NYC Dept. of Health in public health social work. As she and her husband owned a second home in Mt. Vernon, N.Y., she would become director and psychotherapist for Project Concerned, the first program in Mt. Vernon to work with drug addicts and their families with the aid of the United Negro Clergy Organization. This led to the founding of the Mount Vernon Narcotics Guidance Council in December 1968. She would serve as chairman and executive director for many years.
So how and did this African-American daughter of a Methodist minister from Shelby, N.C. become a noted expert on the Jews and Israel among American and international scholars?
In a Jan. 1962 interview in Ebony magazine, Dr. Jiggetts explained her lifelong fascination with the Jewish people.
In her early childhood, "she overheard a Jewish peddler exchange the traditional Hebrew greeting, shalom, with her minister and high school principal father, who understood the language. 'Then and there,' she said, 'I decided that some day I would study Hebrew.'"
"There was only one Jewish family that I came in contact with in our neighborhood [in Shelby, N.C.], so I asked my parents about these people and they encouraged me to read about Jewish history."
At age nine, her father would give her "a copy of a scholarly essay on the Talmud," which would become "an important literary milestone in her education." What lessons to be learned in the simple encouragement of education-minded and parents toward their inquisitive child.
Dr. Jiggetts would become fluent in the Hebrew language, learn about kosher dietary law in nursing school, and realize, as a social worker in Brooklyn, N.Y., that "contrary to popular belief, Jews, too, experienced problems of need."
She credited Dr. Hyman Krakower, dean of The City College of New York, for encouraging her master's thesis on Jewish culture.
She was then awarded a trip to Israel in 1950, by the Jewish Culture Foundation of NYU and the קרן ברל כצנלסון of Israel (http://berl.org.il/en/). Jiggetts was the only African-American woman in a group of 69 students and teachers and was the first African-American student to travel to the young State of Israel.
She would publish two books on Jews and Israel: "Religion, Diet, and Health of Jews," in 1949, and "Israel To Me," in 1957. "Israel To Me" was a sociological study of Israel, based on her second visit to Israel in 1953, in which she discussed her "feelings about Israel, as an American, Christian, Negro woman, social worker, and student." Jiggetts would say her interest "stems from misunderstandings about [Jews] and [her] own race," continuing, "It is time the false generalizations and stereotypes about both groups are eradicated."
Jiggetts would make an impact on the blossoming State of Israel, as well. University of Michagan's Dr. Bryan Roby writes in "Israel in Black and White," (https://quod.lib.umich.edu/cgi/p/pod/dod-idx/israel-in-black-and-white.pdf?c=fia;idno=11879367.2017.004;format=pdf)
"At the same time, African Americans were contributing to
the development of Black consciousness among
Mizrahim. For instance, Ida Jiggetts, a Black student
at the Hebrew University of Jerusalem, provided the
Israeli Ministry of Education with Langston Hughes'
poetic literature when she learned that, to her
dismay, the only Black literature taught in Israeli
schools to Mizrahim were Harriet Beecher Stowe's
'Uncle Tom's Cabin,' Booker T. Washington's 'Up from
Slavery,' and Richard Wright's 'Native Son.'"
Jiggetts would spend years studying Yemenite Jews in Israel.
Dr. Jiggetts passed away in 1992 and is buried in her hometown of Shelby, N.C. May her memory be for a blessing and may her lessons of cooperation and mutual understanding be taught to future generations.