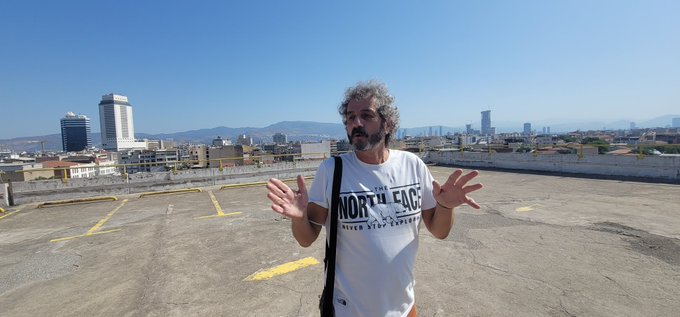 "Come up to the 7.5 floor in the parking lot, I am waiting there!" This isn't a line from a dark movie. This is what Nesim Bencuya told me when he was giving me directions. Little did I know that this is going to be the beginning of a trip in Izmir time.
He was standing in the beginning – more than 2000 year old Jewish community of Izmir, the ancient Smyrna, where thousands of Jews lived since antiquity, looking over a typical housing complex at the Bene Yisrael quarter:
Here we are in the heart of the ancient Jewish community, a huge community that has existed here for thousands of years!
The Jews lived right here on the slopes of Pagos, all the way down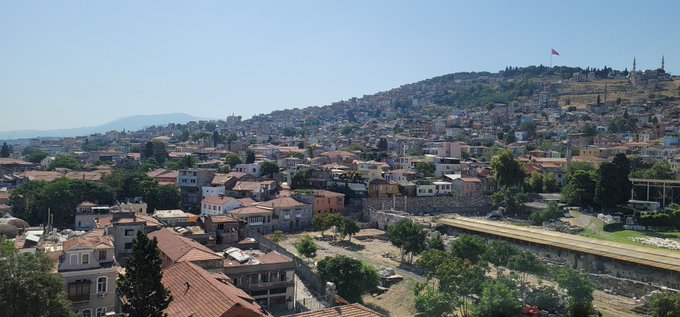 to the seashore. Merchants, fishermen, rabbis, mystics, Kabbalists, converts, diplomats, beggars, even a Messiah all left their marks in the heart of the city and in the heart of the Jewish nation.
We will speak about that 'Messiah' and the shadow he still casts to this day, inşallah, at a future blog post. In this post, I will talk about Nesim and the Izmir Jewish Heritage project…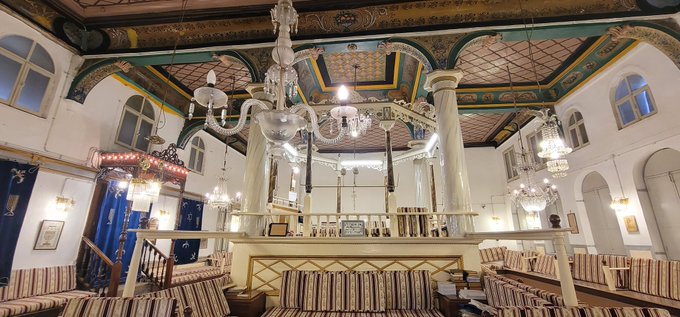 Nesim lives on the streets.
"Let's cross the Haham Bashi street," he said as we crossed the present-day Tarik Sari Sokak, which borders the Roman era Agora. Excavated under the B'nei Yisrael quarter – on our way to the Bikur Holim synagogue – built by Manuel de Ciaves, or Chaves, in 1800.
Manuel, after whom the Chaves quarter was named, and his son donated this to the synagogue with a condition that an Ashkava prayer will be said honoring the family. Nesim with a determined voice said, "Until the end of days," driven that this promise will actually be realized by the end of days.
I was looking for some traces of this promise until I came across two amazing things. The first is Ya Ribon Alam – "Ti Sus El Rei Rei de Los Reyes" in Ladino, the language spoken by the Izmir in the Sefarad Community.
The second is the list of the Sefer Torah and their "Goral " the Lot, which was cast on which Torah will be taken out to be read. This includes the Torah scrolls of the donors from the Manuel de Ciaves family.
Why do you need a lot? A Goral for a Torah? The Talmud said and I quote, "Everything depends on luck, even a Torah scroll in the Arc." Sometimes, the one Torah in the back never gets taken out so they made a Lot, which Torah should come out of. The last lot was in 1971.
From Bikur Holim we went to the Portugali, or Portuguese Synagogue. This is where the great revelation and struggle of Shabtai Tzvi, the Messiah, took place. And I already promised that I'll get back to that in a later post…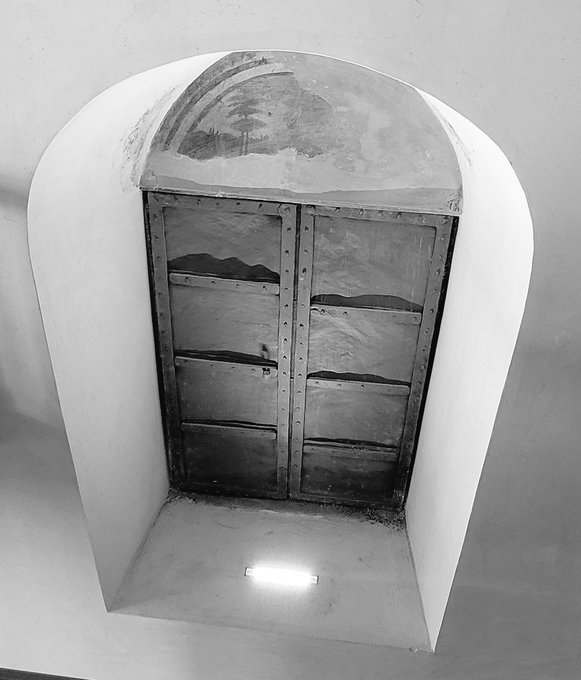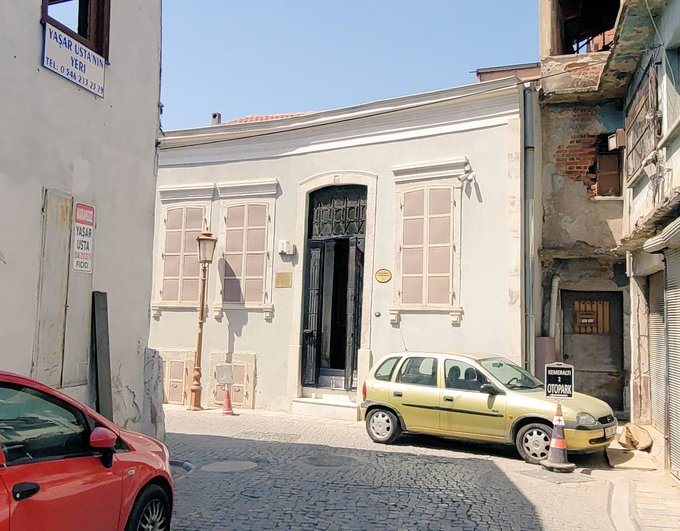 We will speak about the great sage, Rabbi Hayim Palacci, who wrote 72 books, served as Hakham Bashi here for 50 years or more and prayed right here, which we discussed also at last week's blog post. Perhaps the most famous of Izmir's scholars over the past few centuries…
I couldn't resist, while at this holy place, feeling the presence of this great spirit of Rabbi Hayim Palacci. I just had to say some words of wisdom that I have read in his books, Kaf HaHayim and Moed Lekol Hay (most of the Rabbi's 72 books carry his name 'Hayim' in some form or another)
The synagogue of this great rabbi was restored to its glory by the Izmir Municipality, while the Jewish Agency for Israel provided support for its security.  (Thank you, Teşekkür ederiz and Todah Rabba).
This beautiful Arc cover, 'Parohet', hanging at the Bet Hilel synagogue was donated by
Rebeka Bonomo in honor of her husband, Avraham and sons, Yakov and Aharon Bonomo.
Walking down from Havra Sokak (Havra is the local word for Synagogue, and it comes from the Hebrew word, 'Hevra' meaning congregation) we arrived at the magnificent Shalom synagogue.
At the door of Shalom, I found this dedication plaque which is of great significance to ethno-social history and make up (and I will talk about it at length at a future occasion – I now owe 1 blog on the false Messiah and 1 on this dedication plaque…)
The above plaque from 1890 commemorates the great Izmir fire in 1840 and the synagogue built in 1800 based on customs of a rabbi from 1750. This plaque is so full of history and information, that even I doubted if it was fairly placed to where it is now. But I'll just leave it for the next blog post…
But I got to post some hints. It has to do with the Ashkenazi Jews and Izmir. Anyway, we are moving on with Nesim…
Nesim is such a young man. So young that I was sure he was younger than me. After I told him that I was 44 he looked at me and said, "You are a little kid! Why am I even talking to you?!" You see, it takes someone as young as Nesim to bring everyone on board a time capsule such as this gem…
The scope of this great Izmir Jewish Heritage project is to preserve 9 historic synagogues in Kemeralti: Bikur Holim, Bet Hilel, Sinyora, Shalom, Portugali, Orhim, Etz Chaim and Algazi (and then some more but we are not done yet). Here is the Geveret/Senyora Synagogue.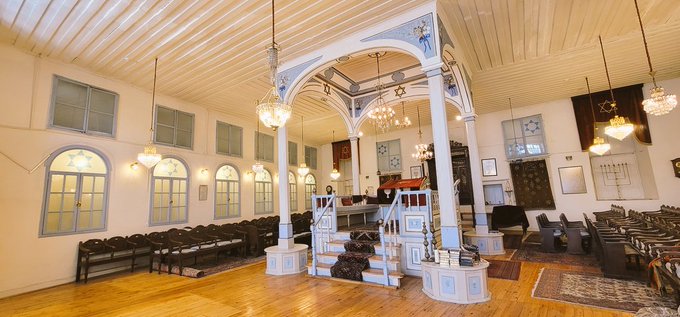 Some think it was named after Dona Gracia Mendes Nasi. But while the synagogue was probably built in the 16th century by Sinyora Lea. And incredibly, the synagogue is still in use!
The Algazi synagogue, home of famous Hazzan Yitzhak Algazi…
Nesim is putting a lot of work into preserving the Hevra synagogue, and the Orhim synagogue is behind it.
Hevra was in a total state of despair after the roof collapsed in 1999. Trees were growing out of the Teva. But here it is – the Talmud Torah or Hevra/Congregation synagogue.
But perhaps the crown of this preservation effort, is this gem:
The Etz Hayim. It is truly a gem of a place filled with heart and character. Starting with the welcoming sign from the 16th century.
To the exit sign reminding everyone the most important verse in the Torah, "Love your fellow as yourself!
And the majestic bimah structure with wood plastered, marble painted, massive columns that are surrounding it….
"I am not a religious Jew," Nesim told me, "but this is our heritage. It is part of me and I want to make sure it stays for eternity," he added while we were strolling through the shops at Havra sokak. After that, we sat down for a coffee in a renovated Han.
"I want to make sure that the world knows that Jews and Muslims have lived here in Izmir side by side for hundreds of years!" he said after ordering a double cup of Turkish Coffee. "There is too little coffee in one fincan", he commented. Then I saw how Nesim's vision can change the world.
But this doesn't end here…
While praying at the newly built Shaar Ashamayim (Gate of Heaven) in Alsancak. I was honored by the Hazan and called up to the Torah.
At this very modern structure, I noticed that the Puntero ('Yad' pointer) which I was using belonged to none other than the Etz Hayim synagogue…
Time capsule isn't it?!