An American Jewish Breakthrough of the First Order
This happened so many years ago, it was before I had a computer to record my all my calendars for each year in one file.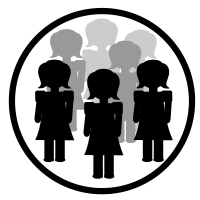 I was in Phoenix to "do" a week-end of lectures at Beth El Congregation.  As it happened – most fortuitously – it was the same Shabbat when 14 women were celebrating their adult Bat Mitzvah.   The age span was very striking – from their 30s to 70s and beyond.  Each was given two minutes to tell why they decided to do this program, knowing from the start it would be two years of preparation, regular classes which might interfere with their other responsibilities.
Some of them when they began the program couldn't tell an Alef from a Bet, much less decipher unvowelled and unmusic-noted Torah text.
Many reasons were given, among them:
(1) they wanted to keep up with and catch up with what their children were learning in religious school; (2) [from the oldest woman] – girls weren't given a Jewish education back then, and she grew up in a very small Jewish community (I think in West Virginia) where it was just not part of their view of Things Jewish; (3) they wanted to assure themselves and their families that their days of life-changing didn't end when they were in college; (4) that their families could be proud of them for something so different than "the usual," like success in their jobs; and I think most striking of all, (5) they felt something was missing in their deepest Jewish and existential selves about what it was to be a Jew and human being.
It was all very moving, every one of the stories.  I had wanted to get up from my seat right then and there and walk to the Bima and hug each one of them and wish them a Big Time Yasher Koach.  But I restrained myself and waited until the very festive Kiddush to try to get to as many of them as possible.
It wasn't easy to do since each one was surrounded by many friends and family members, including some who had flown great distances to share in this Great Simcha Moment.
I have seen events like this (though not with so many women) at one time. More frequently, I have spoken with women everywhere in my audiences who have had an Adult Bat Mitzvah and asked them what it meant to them. Every one of them spoke of the experience as one of the most wonderful thing they had ever done.

Add to that one other element: For so many of them, they have created a chevra of friends from their co-celebrants, built on a deeply meaningful Jewish basis. For them, that day in Phoenix, and wherever else I have spoken to women about their experience, was just the beginning of a richer life.
Perhaps now it is time not to restrict "commencement" to college graduations. This commencement is of a different order, one to be recognized and encouraged throughout our communities everywhere.