Moishe House in the FSU: the seeding of grassroots Judaism
While I'd never been to Moldova before last Shabbat, it was the most fitting location for Moishe House's first-ever learning retreat for Russian speakers. After all, the first Moishe House in the Former Soviet Union (FSU) was established in the capital city of Chișinău nearly six years ago… and there are now nine active houses in the FSU with more on the way. If we are to fully appreciate this inspiring rebirth, we must grapple with the historical context.
Students of history can attest that the USSR decimated Jewish communal life. William Korey, the great activist for Soviet Jewry, wrote about the Soviets' policy of "forcible assimilation" in sharp, painful detail. During the seven decades of Soviet rule, he explained, Jewish institutions were pulverized, and "Jewish activists and literary figures were arrested, were killed, or disappeared."
Forcible assimilation carried… [the] implication… [that the] consciousness of a distinctive Jewish past and Jewish identity and, therefore, consciousness of a heritage, was to be obliterated. Jews were to be transformed into non-persons with a past that was – in the words of George Orwell – to be plunged down the "memory hole" of history.

– W. Korey, 1973, The Soviet Cage 
Anti-Semitism in Russia, p. 39
Once, a quarter of a million Jews lived in Moldova, and Chișinău's population was more than 50% Jewish. Today, an estimated 5,000 Jews remain in the country, including some 3,000 in Chișinău and localities under its control. While Chabad and other Jewish organizations work hard to serve the remaining Jewish community, many young people remain disconnected from their Jewish heritage, uninspired by the frameworks of mainstream Jewish institutional life.
At this learning retreat in Moldova, I met successive generations of Moishe House Chișinău residents, including Iulia who had been inspired by her year of Torah learning at the Paideia Institute of Jewish Studies in Sweden, and founded that first-ever FSU Moishe House with her friends Stas and Katia. Their passion clearly lives on in the current residents Maxim, Sveta and Nikita who welcomed us into their home, excited to chat with us about their Shabbat programming and Jewish cultural events, which bring dozens of young Jews together at least five times monthly. Their programs fall into one of four categories: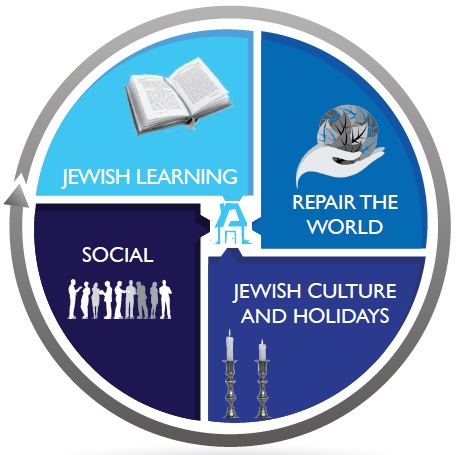 Shendy and Dima, a young, married couple from Chișinău, actually met one another at one of these events several years ago, and were also in attendance at our learning retreat. Today, they themselves reach out to other young Jews through their own programs, supported by the Moishe House "Without Walls" initiative. Advertising themselves through social media, Shendy and Dima plan communal events for the Jewish holidays, never knowing how many people will show up. Their numbers only keep growing, as word spreads among young professionals in Moldova.
Young Russian speaking Jews flew in for the learning retreat from Russia, Ukraine, Armenia, Kazakhstan, Israel, Austria, and Germany. Multiple Moishe Houses were represented, as were Moishe House Without Walls event organizers and some who were hoping to establish new Moishe Houses in their home countries. They came to learn more of Jewish tradition in order to better infuse their programs with meaningful content. The retreat's theme was 'Jewish life cycles', which we explored through text study – a first for some of us who attended.
Having worked in the past with children, teenagers and middle aged adults as an educator, I wasn't entirely sure what to expect from this cohort of students and young professionals. Would they be receptive? Curious? Engaged? How much would they participate? Would they challenge our team of educators? Would they discover something in the Jewish texts that spoke to them? How might this learning retreat shape their future Moishe House programming?
Together, we tackled life cycle events ranging from naming ceremonies and weddings to mourning periods, teasing details out of Jewish texts and discussing them in learning pairs (havruta) and larger groups. We reflected upon the values and symbolism undergirding our Jewish heritage, wondering together about how these might be expressed in ways that would be meaningful to us as Jews and moderns. Together, we demystified some aspects of Jewish traditions, pushing beyond "because God said so" and into historical context. We envisioned new rituals to mark life events that might otherwise pass by us. Together, we looked to our futures.
The energy of the participants was palpable to me, and I left the retreat with renewed inspiration. Even as I write this, I recall our closing circle, which actually brought tears to my eyes, as the participants and staff shared personal reflections of the time we'd spent together. It was then, hearing from the members of our little learning community, that I knew it had mattered.
Where Jewish culture and community once lay devastated, seeds of grassroots Jewish life have been taking root anew in the Former Soviet Union; and last Shabbat I was witness to the sprouting of potential.