One of our best speakers this year so far!
John Wayne once said that courage isn't the lack of fear. "It's being scared to death, and saddling up anyway!"
It's not every day that we get to meet a real hero.
Chabad of Palm Beach Gardens had the extraordinary opportunity of hosting one of the IDF soldiers who rescued hostages from armed Palestinian and German terrorists in the Entebbe Raid on July 4, 1976. Sassy Reuven is soft-spoken, shy and loves to crack jokes. And he's not very broad or tall either. He is far from how you'd envision "Rambo." Yet, together with almost 250 Israeli servicemen, he followed orders to fulfill one of the most daring and successful rescue missions in recent history.
Addressing the capacity crowd at Chabad of Palm Beach Gardens, Sassy spoke about soccer games with his squad and practical jokes they played on each other just hours before embarking on a mission so dangerous they were uncertain whether they would ever return alive.
The audience was struck by his presentation, yet no one was able to put a finger on exactly what it was that touched them so deeply. It certainly wasn't the eloquence or grammar of this sabra, neither was it his poise or regal bearing. But all said that this speaker's presentation had made a deep impression on them, more so than most other speakers they have heard.
As the rabbi, I felt it was not despite his street savvy and down to earth demeanor, but specifically because of it that we were inspired. Here we were faced not with a brilliant sage or accomplished athlete but with an ordinary person, an average Joe, just like any of us. Yet he managed to change the lives of hundreds of people and Israel's image in the eyes of the world!
Sassy Reuven's presentation was deeply moving and inspiring because he showed us that it's not impressive when extraordinary people that do extraordinary things, but rather when ordinary people do extraordinary things that change the world!
He inspired to find our own voice and to discover the hero inside of each of us. Sassy inspired us to look deep into our souls and unleash the power and passion we have within us, no matter what the world, our peers, or even our own misguided perceptions might throw in our path!
Indeed, the Torah portion Mishpatim follows the Great Revelation at Sinai, where a group of vagabonds and slaves became a 'kingdom of priests' and the 'Chosen nation'. Far from the extraordinary revelations you'd have expected to follow, the Torah portion teaches a series of laws concerning murder, kidnapping, assault, theft, loans and courts of law amongst others. The simplicity of these laws reminds us too that it's our commitment to the routine details of life that will illuminate this world and bring it to its purpose!
Please enjoy the pictures below.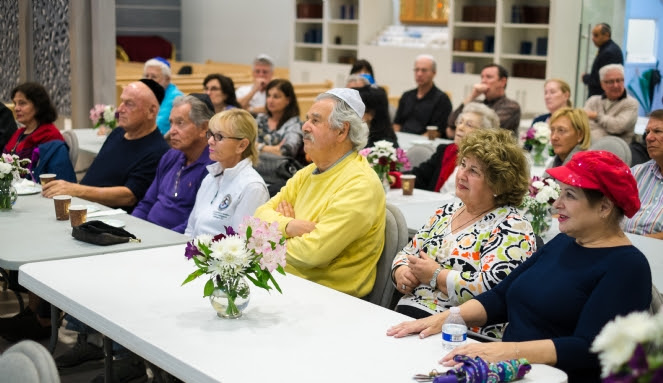 The capacity crowd listening to Sassy Reuven's presentation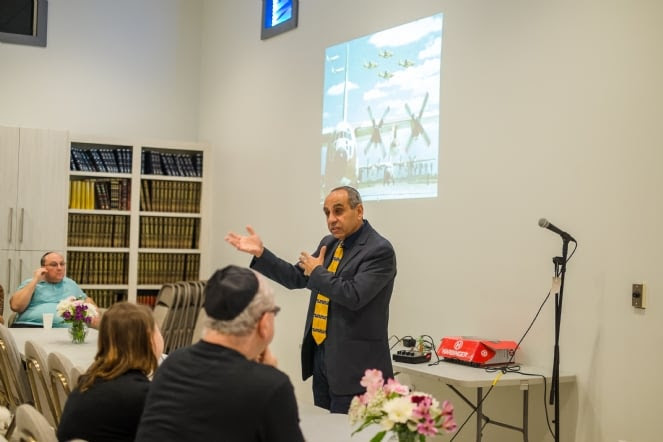 Sassy Reuven- IDF Commando who fought to liberate the hostages in the Entebbe Raid on July 4, 1976
\
L-R: Shelly Paolercio, Chabad Rebbetzin Chana Vigler, Mickey Gottlieb
Rabbi Dovid Vigler introducing IDF Commando Sassy Reuven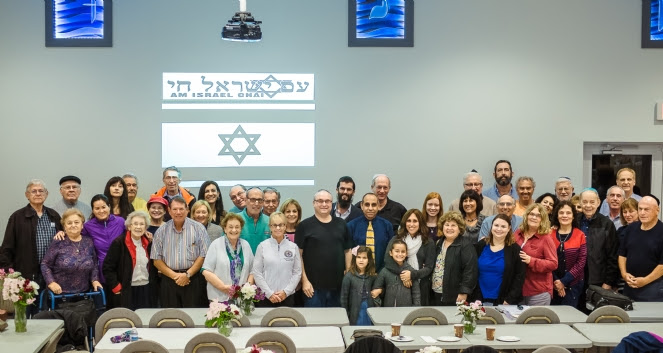 Part of the crowd that came to the lecture by IDF Commando Sassy Reuven, second solider to leave the plane at the Entebbe Aiport on July 4, 1976
More Pictures: Click here