I've long felt that it takes tougher skin than mine to surrender one's name and face to a public discourse limited by inflamed emotions and finite keystrokes, but ideas of this era must take a stand online. There's a lot of "shouting" on the Internet, and I often wonder if bloggers and their responders actually succeed at convincing anybody of their political or religious views. Perhaps people in the middle get swayed one way or the other? In large part, I decided to open this blog account both to stimulate constructive conversation on all sides of the critical issue of freedom of religion in Israel, as well as to engage those of you who are concerned with Israel's identity as both a Jewish and democratic state.
One could begin by writing that in just the past two years, North American Jewish organizations like the JFNA, the AJC and the NCJW have officially begun to advocate for freedom of marriage in Israel, challenging the Israeli Chief Rabbinate's monopoly on religious life, alongside Israeli advocacy groups like Hiddush – Freedom of Religion in Israel. These Diaspora-Israel partnerships are welcomed by more than two-thirds of Israelis according to the 2014 Israel religion and state Index, which is the most comprehensive public opinion survey of religion and state issues in Israel.
Alternatively, I could relate to you the story of a young Israeli couple named Shay and Yanina who can't legally get married in Israel because of the bride's non-Orthodox conversion. Yanina is an immigrant from the former Soviet Union. While she made Aliyah on her own, served in the Israel Defense Forces and underwent a Reform conversion, she could not legally marry her beloved in Israel when he proposed to her after a month of reserve duty during the recent war in Gaza. The young couple took their story public, and Hiddush made it available in English.
Yanina and others like her tug at our heartstrings. Take a tutorial on online fundraising and review the most successful campaigns – you'll find plenty of heartrending stories and photographs. I work in communications for Hiddush, and in my professional realm we know that personal stories and photographs draw the most attention.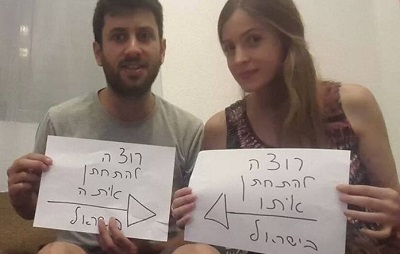 Shay Fleishon and Yanina Tsirina
My own story in Israel is one of privilege. I am an English-speaking, Orthodox, Ashkenazi Jew from birth with official paperwork from the Israeli Rabbinate that authenticates my parents' halakhic Jewish marriage, as well as my own. Unlike Dr. David Breakstone's granddaughter, my future children will also be a privileged citizens in Israel. Still, I'm also a Russian-speaking, Pluralistic, Religious Zionist, and my empathy for all Jews and concerns for the Jewish, democratic State of Israel bear upon me.
While I've never met Yanina, her story is familiar to me. Coming from a Russian-speaking family myself, I've worked as a Jewish educator for both the JAFI and the JDC in the Former Soviet Union, working with and teaching many people who are not halakhically Jewish. I have friends and acquaintances who made Aliyah from the FSU and fought for their Jewish homeland, but are not considered Jewish by the Orthodox Chief Rabbinate and don't want to lie about their lifestyles in order to convert. I also know people who have lied to the Chief Rabbinate about their religious choices so that they could get married in Israel – the Israeli system encourages this.
I am a believer in the Torah's divinity, and I live my Jewish life according to my faith and life experiences. The diversity of Jewish cultural and religious expression also fascinates and informs me. My Jewish choices are grounded in my Zionist, traditional, nonreligious parents' values, as well as in many principles that I encountered in the course of Torah study with my many Orthodox and non-Orthodox learning partners at the Pardes Institute of Jewish Studies over the years. Religion and politics create divisions, but our common ground is of greater importance to me – and what ground could be more common to all Jews than Israel? At the 2013 AJC Great Debate, Rabbi Shlomo Riskin beautifully stated, "Israel is too important to be a country for Orthodox Jews alone."
The 1985 book The Modern Impulse of Traditional Judaism includes an interview with Rabbi Eliezer Berkovits zt"l who articulated a halakhic argument for separation of synagogue and state in Israel. Going further than Rabbi Riskin's stance that Jewish law does not deny the possibility of civil marriage in Israel, Rabbi Berkovits zt"l stated, "I maintain that on halakhic grounds the Knesset has no right to institute and enforce religious laws, and the fact that it does so, does not help Judaism. On the contrary, I believe it does harm." He explained that in absence of the institutions of semikhah and the Sanhedrin, halakhic authority has to be freely accepted by the people for whom it legislates, which is not the case for the Israeli population as a whole.
Chief Ashkenazi Rabbi David Lau, concerned with the inconsistency between the openness of Israel's Law of Return and the Chief Rabbinate's monopoly on religious life in Israel, recently drew a terrible conclusion. In early November, he declared that "we must change the Law of Return immediately so it will include only those who are Jewish according to the halakha," excluding an estimated nine million Jews worldwide eligible for Israeli Citizenship. This would "technically" reconcile the inconsistency, but it's safe to say that the majority of world Jewry does not base its definition of Jewish status upon halakha. Many Jews in Israel and around the world have non-Jewish mothers, or have converted through non-Orthodox streams of Judaism; and Rabbi Lau's narrow concept of "a Jewish State" is divisive, to say the very least. He would prefer that Israel be for Orthodox Jews alone.
The other equally logical and consistent solution would be to allow all people eligible for the Law of Return to live in Israel free of religious coercion and authoritarianism. As I see it, Orthodox Judaism has nothing to fear – traditional, halakhic Jewish practice has survived for two thousand years and continues to thrive without any form of government enforcement in the Diaspora. Disenfranchising non-Orthodox Jews from religious life in Israel only damages their relationships to the Jewish State. This is harmful – for Israel, for world Jewry, and for the relationship between them. Of course, I would personally be counted as Jewish regardless.
Beyond my Jewish "credentials", I am privileged for another reason: I believe in the existential importance of the work that we do at Hiddush. In the mornings, I wake up excited to promote religious freedom further, believing that we and our Diaspora and Israel partners are fighting a just battle for the Jewish, democratic State. It's not about Orthodox versus non-Orthodox. It's about supporters of democracy and freedom versus those who oppose them (or benefit from their absence).
Writing this post is not expected of me at Hiddush – I feel personally compelled to bring these issues to greater light to the extent that I can… and to those of you who find yourselves agreeing with me, you should know that your support and involvement truly matter to all of the groups and individuals that that work tirelessly for Jewish unity, democracy and freedom.
Please check Hiddush out at http://www.hiddush.org/ and http://www.facebook.com/Hiddush – I'd love to hear from you.